NEW | Lumiaflex 1004
A new generation of LED strips that combines the aesthetics of neon lighting with the advantages of modern LED technology. A silicone extrusion profile with integrated diffuser forms the housing and makes the Lumiaflex 1004 waterproof, wear-resistant and UV-resistant. The compact design, flexible body and short cutting length provide freedom in planning and creativity and bring unique lighting solutions within reach.
View
PRO-FUSION
Groundbreaking in performance, reliability and application possibilities. Pro-Fusion is an innovative solid state lighting solution designed to deliver illumination performance, unequaled in the market. Whether it concerns general lighting for a new construction project or the replacement of compact fluorescent downlights in existing buildings, the Pro-Fusion realizes lighting that is considerably more comfortable while substantially minimizing energy costs.
View
Catalogue 2022-2023
We proudly invite you to discover the latest version of the English Prolumia catalogue. This catalog offers many functional and innovative lighting solutions for a wide variety of applications.
View
PRO-BAY III
The Pro-Bay III offers a high-level lighting solution and excels in many ways. The phenomenal light efficiency ensures substantial energy savings and, in combination with the attractive price/quality ratio, contributes to an interesting TCO.
View
ROCKDISC III
The spray-proof and impact-resistant surface-mounted luminaires from the Prolumia Rockdisc III series meet the lighting needs in outdoor areas in non-residential and housing construction. Both normal and semi-shielded versions are optionally available with a microwave sensor, large sizes also with emergency function.
View
PRO-FLOOD BASIC
The Prolumia Pro-Flood Basic series consists of three compact floodlights which can be used for both indoor and outdoor applications.
View
LED lighting where quality is paramount. That's Prolumia. The five extensive product groups, consisting of line lighting, indoor and outdoor lighting, industrial lighting and public lighting, enable us to fulfil virtually every lighting wish. We also strive for sustainable customer contact, sound specialist advice for every issue and provide just that little bit extra service. Whatever it is, Prolumia makes no concessions.
ASSORTIMENT
From industrial LED luminaires to the most beautiful recessed LED spotlights… Prolumia has everything to meet all lighting requirements. Take a look at all our products here and get inspired.
View products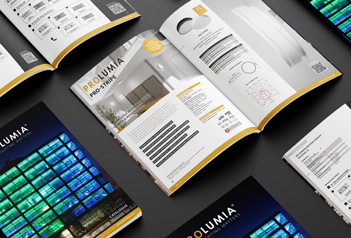 DOWNLOADS
Want to know more about our products? View all downloads such as datasheets, manuals, brochures and more.



View downloads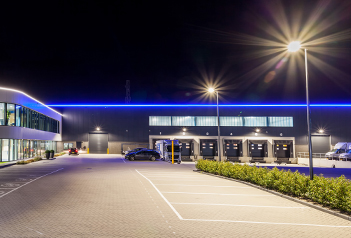 References
Wondering what our products look like in practice? Then take a look at all our extensive references here and be surprised.



View references
SMART LIGHTING SOLUTIONS THAT IMPROVE THE QUALITY OF LIFE
Prolumia has been offering a high-quality range of LED luminaires since 2008. With passion, our lighting specialists provide the customer with sound advice, the right product and project support and ensure the right after-sales service. Together with the customer, we focus on details… this is how we make the difference.